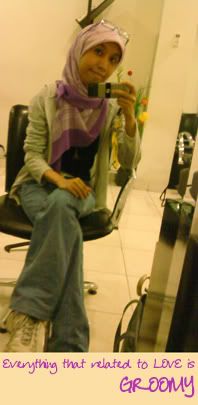 I never, NEVER, went to a beauty-salon when I was studying in Japan. LOL. I'm busy thinking about paying house rent, gas, electricity and so on, I never put "beauty-salon" on my monthly expenses. I usually went to beauty-salon whenever I went home to Jakarta:))
There's one salon that I've been coming for the last 8 years; it's a mosleemah-beauty-salon. Last time I went there, the place were still small and not so attractive. But then when I went back to Jakarta in 2010, jenjreeeng, the place has been much much much developed compared to the one I usually went to. The building moved to a more strategic area (still close to my house, thank God). They also have several branches now.
The funny thing is when their asking about my member card. I gave them my member card(the one that they gave me on 2004ish) which looks yellow'ish now and they were "o__o what the hell is this?" lol. The new receptionist probably didn't even know how the "first edition" member card look like.
And then, maybe part of my revenge (having a beauty-salon-treatment only once/twice every 1-2years); I go there almost every month now, mostly doing hairspa, reflextion and facial-accuepressure (hah, I even don't know if I spell it right--why blogspot didn't help me with the auto-spell heree?). Especially after I finished hard work-deadlines, I just need someone to rub my heated-head.