Wew, I haven't turned on my laptop for two days (it's a record!). My friend came by and stayed for the weekend night. Hehe. I also busy repairing my black butterfly sewing machine. There's something odd about the way the machine works, but it got better now. Hopefully after this I able to post more DIY-fashion post for you to check out. Mmm, I still have to practice my sewing to be more straight and consistent though.
The thing that I need to remember is to be balance on my passions and goals. Beside being a fashion designer, I really want to be a columnist. Therefore I need to send more articles for magazine to have my articles published. I really want to see my articles published! gambarimasu. I also (might) have an illustration project for my friend storybook project for couple weeks ahead (although in my agenda, this week should be shortfilm-editing week, but I think I could finish the editing in 1 or 2 days). Part of me suddenly wants to upgrade my drawing skill. It's been awhile since me last made my color-drawing. It looks I will be busy couple weeks ahead, but at least, I'm busy with things that I love doing. Well I have to do it fast though coz my boss said that he will send more translation material ahead. So let's play hard before work hard!
Speaking about my passions. Being a best seller storybook-writer and a best seller novelist are also my goals. I draw storybook when I was a child and also make comic when I was teenager. I write novel too. My Dad found hardcopy of my novel that I wrote when I was 13years old. I was asking about the hardcopy last month, although I guess my Dad probably have lost it since he printed it out a looong time ago. He printed it out to send it to an publisher that time. I personally think he sent it to the wrong publisher=)) he sent it to the publisher that most of their book will be found at elementary/junior school's library--and my novel is waaaaaaaaayyyy to dark for elementary school.
The thing that kmade me suprise when I re-read it (of course I kinda forgot the storyline, it's been 15years) is; the (basic) storyline is similar with Harry Potter book! =)) No offense for JK Rowling fans, I admit my novel that time couldn't be compared with Harry Potter Books but I honestly found some basic similarities. I called Voldermort as "The Shadow", Death Eater as "Evil-Spirit Committee", I changed Wizzards to "People that has sixth sense". The basic idea is The Shadow and Evil Spirit Committee kills people that has sixth sense so they could "conquer the world". LOL.
I remembered reading article mentioned that JK Rowling found the idea for Harry Potter in 1990, I joked with my friend, "what ever inspired her that time, probably has inspired me too." I finished my book on 1995; 1st book of Harry Potter released on 1997. I didn't read Harry Potter that time (I'm a very late fan of JK Rowling) so I couldn't find the similarities at that time. Furthermore, I'm the kind of writer who writes and forget=)). That's why I always suprised when I re-read my novels after 2-3 years.
JK Rowling always be my biggest inspiration as a writer. Now that I found out that my-13 years old-self could write this simple-yet intriguing novel, I must admit it kinda gives me kind of boost of energy.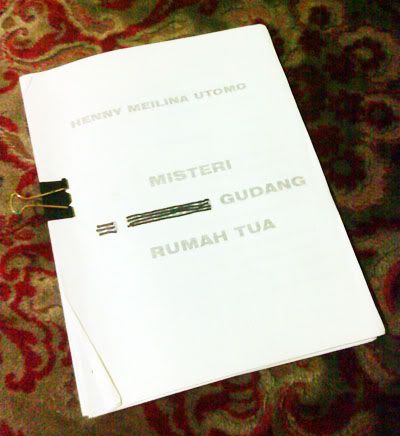 I remembered there's one novel that I really want to read it again. I gave the novel's softcopy to my Dad as a birthday gift in 1997. It was a working project so it hasn't had an ending yet. But I do remember re-read it again after 1 or 2 years vacum, and I got the shiver when I re-read it. I wrote this novel based on my Dad suggestion about write in detail. Detail about feelings, body movements, wheather, lighting, air-temperature, and so on. When I re-read that novel I was stunned for the details that I wrote, I could imagine the scene so clear like a movie. Again, it's a dark novel. I guess it was my genre, before going to romantic genre now=)) Oh now I'm so missing writing dark things. LOL.
I should've published 1-2 novels by now IF I write novels more consistently (at least write until it ENDS--my weakness; I rarely give them an endingT~T). My sister has published 5 books now. Guess it's time for me also to get more serious on writing novels. But still, one thing at a time! Clothing line, illustrations, articles, works, film-editing, novels, and I even couldn't say there aren't more. This time forward I just don't want to waste and being dzolim to all of my talents. I wanna grow more everyday and be BIG, useful for umat, and makes my Dad and my family proud of me ;)
Q : How do you want to be remembered as?
A : a person who did her best for the talents she got (JK.Rowling)