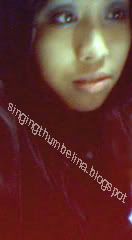 I found this old photo when I was browsing my old files. Hihihi, I took this photo with my webcam. I got the lighting effect by reflected the lamp lighting with a mirror below. That's why you can see how my eyes has that kind of glow. The reason was kinda simpe, I tried to capture the eye makeup that I did that time. I'm trying the smokey-eyes makeup but unfortunately the webcam couldn't capture the color well. I wore a black hijab with a black capuchon.
After seeing this photo I remembered a book I saw in bookstore couple weeks ago. It's about lighting in photography. There're a lot of things about photography that I need to learn. I've used manual SLR before, but haven't yet tried the digital one. Although by theory, it should be the same. I'm familiar with manual photography since I was a kid. That's why I've used a manual SLR when average people used their camera-pocket one. My Dad is photographer. He sometimes produced the photo (I mean the paper-photo ones) by himself in dark room. He also has had several old antique equipment related to photograph. I think most of them already ruined by time now (since he doesn't maintain/clean/put it on proper place) :-| (I should've just sell them to Jalan Surabaya)
Beside a photographer, I'm also a photoshop lover =D I know for some of SLR user, touching up photos is kinda a sin :)) I love to take photo, but I love to touch them up too. That's why buying a DSLR hasn't been my priority yet. I easily satisfied with pictures that I took with my cellphones' camera. I specialized my photo in angles, composition, and story; not necessarily the technic/color simply because I'm not good with it (that's why I have to touch up my photos eventually to exhanced the mood/the story).