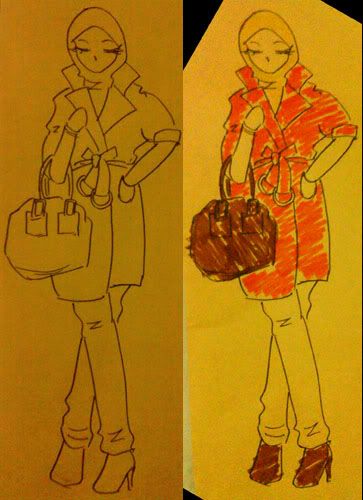 I've decided to do it =D the clothing line. I've decided to give it a try and give it my best effort. I don't have any translation project these days, means that I could concentrate of making this one of my dream come true! I couldn't say much about my next clothing line, but I can ensure myself, it's gonna be big =P it's gonna be bold and big, insyaAllah :)
I tried to do fashion drawing and I guess.. it's quite okay ya =D? I only use colorpen for the coloring, so pardon the minimalist color. What coloring tool that I should use for fashion drawing? does anyone know? maybe watercolor ya? it should gives more variety in color.
Now I'm began to learn everything relates to clothing line. I learn about fabric, fashion drawing, sewing, clothes pattern. I've contacted friend that knows places on Tanah Abang. I've decided the concept and the basic designs. I really hope I could launch this clothing-line on my birthday on May. Huhu, hopefully! Gambarimasu! Gambarimasu. Wish me good luck ya!