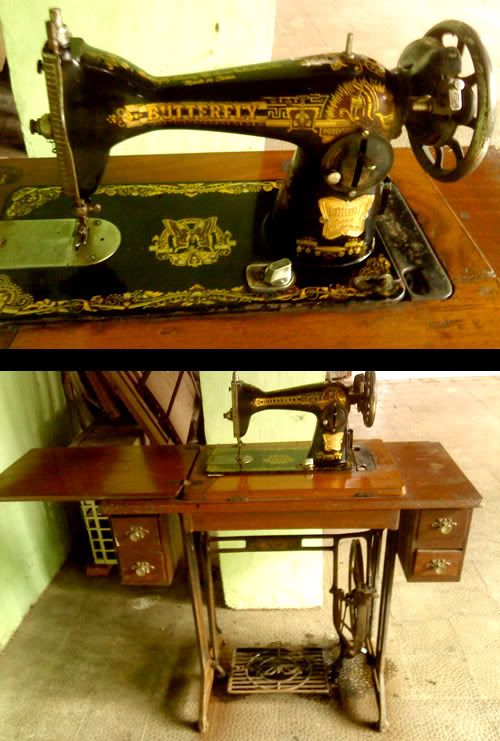 I think this sewing machine has its own miracle. It was my Mom's before. I always think that someday I will have my own clothing line. but not soon. I was thinking maybe after I have my children around. Anyway this sewing machine has been abandoned for at least 15 years. I bet this sewing machine is older than me:)) I've been thinking about this sewing machine while I'm in Japan. Since I've done so many clothes modification there, I'm always wanting a sewing machine. And I keep remembering my mom's sewing machine back here in Jakarta. It's just a simple manual sewing machine, and it needed to be repair here and there.
Couple days ago I decided to clean it and repair it as I can repair (I don't have any link to sewing-machine-repair service), and voila, it works! I thought that it needed a professional repair service, but there it is now, working after I put a few drops of oil (I even used a cooking oil, I haven't bought a sewing machine oil yet). It still need a wheel-rope though, I'll buy it tomorrow. I also have to re-paint the drawer and the foot-stand. I'm thinking about this green color (for the drawer) that I found from http://love-you-big.blogspot.com.
I always love green :) and it would be nicer if the foot-stand are white like the one I see in
http://antiquemachines.net
web. What do you think?
Anyway, the magic part is...... I become really wanting to start my clothing line soon :| Well I have the clothing-line concept for quite a long time now, but I didn't really have the guts to do it. I didn't have the confidence. But then today, after seeing this sewing machine cleaned and works; I think I (probably) (finally) have the guts to do it now:| I'm so anxious just thinking about it, but I think I should really start it soon. Well, if it's so then there'll be A LOT of things to learn and TONS of homework to do. GAMBAROU. There's so many people inspires me here in this (cyber) world, sometimes they make me feel want to do all the things that I want to do at once!
here's some people who inspire me, check them out, I hope they could inspire you also;)