I finally have the chance to make this simple post. I couldnt say it's a tutorial, since it's very a simple eye'lining', I guess you all can do it without any step-by-step tutorial. I'm so missing my webcam T_T I broke it when I was still in Japan. By the time I got home to Jakarta I'm thinking I don't have to buy a webcam since I no longer use it (I used it for my friends and family and I'm already back by their side now). But then I remember it easier to take a picture with a webcam :-| I suddenly want one.
It's quite hard to take pic with camera or cellphone. My cellphone is the kind of cellphone that doesn't have self-viewed mode. And I need to see my face when I take a photo of it :)) or else the photoshoot will took longer till my smile become flat :-| I'm sorry for the quality, it's the best I could take at night lighting.
Anyway, I have sad-droppy-sleepy eyes that's why I'm addicted to eyeliner since I was 22 or sumthin. I usually do cat eyes eyelining to exhanced my sad-sleepy eyes on daily basis, but then I looks quite plain on event/party coz I have the same make up/eyelining with the daily basis. I think I'm gonna explore more about eyelining and find a fun way to look different on special occasion.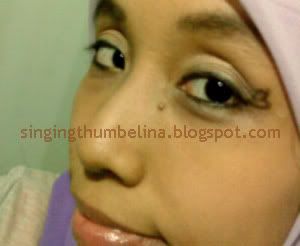 The first trial is this one. LOL. well, I was inspired by the butterfly wings pattern that people already use as a eyelining pattern for halloween party, but I tried to make it more down to earth. Well I kinda admit, it works but it also doesnt. lol. Mmm it may looks good close up, but for long shot, I need to figure out something to make it more work:)) Well I might try it again later, but I really want to share this hardwork for now:)))
Ah you probably couldn't see the eyeshadow coz I use shimmery-light-brown. I can't make it too dark since it will shut the eyelining down. Btw, pardon of the weird phrase, I'm so tired to google the right make-up phrase. But I do hope you can figure out what I'm trying to tell you. lol.
OKAY, now it's time for me to sleeeeeeeeppppppp ZZZZZzzzzzzz