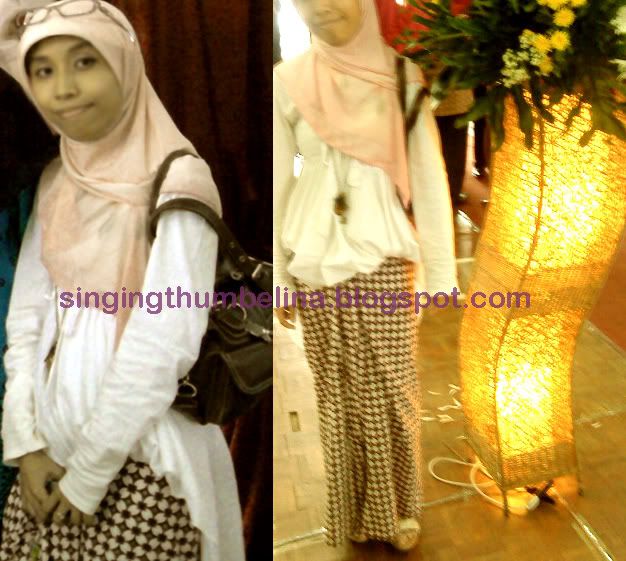 I went to my best friend wedding party last week. I wanted to wear something formal but not so 'kondangan'. I went there by public transportation so I needed to wear something that not too shiny to walk through the bus terminal :)) that's why I came up with this combination.
The blouse is the same with the one that I wore in my previous post, but I do some twist on it. On the back-side, I left some tails that the blouse already has; but on the front-side I made a fluffy form, creating a new style of blouse, isn't it? :)
The skirt itself was kinda tricky. The real form of the skirt is A-cut skirt. The bottom side is very wide; too wide to be compare with fluffy blouse. So I made a 'jarik-fold' and pinned it up. Jarik-fold a kind of folding on skirt that make the skirt become tighter on the bottom-side. as you can see on the pic :)
The overall look looks cute and girly. But I never could be as 'cute' as my dresses. When I waited the bus, I sat on the sidewalk--not really a sidewalk though, it's like a stair to a shop. Well I've always sit there if I wear my jeans, so I felt almost no different sitting there with a cute dress. But the funny thing was there's a road-singer that saw me sitting on that floor, and he was, "Sister, your dress will become dirty O_O" and I was, "Nah~_~it's okay" LOL. me and myself.
The other funny thing that happened was when I met my old-college friends; 2 of them wearing the same bags line that I have. It looks soo similar to each other:))) the fabric is identical! My other friend joked that we all probably bought them from the same catalog. LOL. Well, my bag is the bottom one. I didn't buy it. I got it from my sister. The bag is too small to her; but it looks perfect on my petite body :)